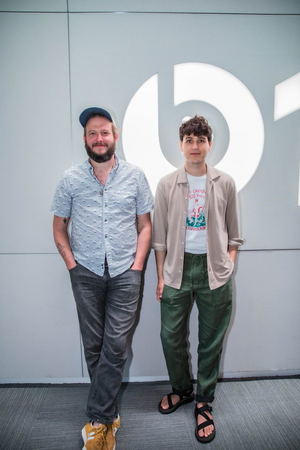 "Time Crisis, back once again. I catch up with Jake, remotely, as he is currently in Calgary, Canada, and, we have a very special guest in the studio - Justin Vernon, of Bon Iver. We'll be talking about his local Chipotle, Hot Cheetos, and so much more. This is Time Crisis."
Episode
Guests
Jake Longstreth - painter and Time Crisis co-host
Justin Vernon - of Bon Iver
Topics
A solo Ezra calls up Jake to discuss his situation in Canada on location for Hannah's filming of A Teacher. Bon Iver's Justing Vernon stops by for the rest of the episode and first dicusses his living situation in Wisconsin, and his high school days as a varsity football player and music enthusiast. The pair talk about their musical interests and Ezra plays "Jamflowman" for Justin, leading to a discussion on jam bands, including Phish and the Dead. The go into detail on the Grateful Dead, Vernon's performance with John Mayer and Dead & Company, and discuss at length Steve Miller's disrespect for the band. Ezra talks about tour anxieties and the highs and lows of the album/tour cycle. An educational Top Five compares the top artists from Wisconsin and New Jersey, Justin and Ezra's home states.
Segments
Continuity
Music
Top Five
New Jersey
"I Will Always Love You" - Whitney Houston
"December, 1963 (Oh, What a Night)" - The Four Seasons
"I Will Survive" - Gloria Gaynor
"Strangers In the Night" - Frank Sinatra
"50 Ways to leave Your Lover" - Paul Simon
Wisconsin
"The Joker" - Steve Miller Band
"We're In This Love Together" - Al Jarreau
"Closer to Free" - BoDeans
"Stupid Girl" - Garbage
"My Projects" - Coo Coo Cal
Songs Played
"One of Us" - ABBA
"Gratitude" - Beastie Boys
"U (Man Like)" - Bon Iver
"Beverly Hills" - Weezer
"Black Coffee In Bed" - Squeeze
"Break Stuff" - Limp Bizkit
"Holocene" - Bon Iver
"Jamflowman" - Twiddle
"Train Song" - Phish
"Black Muddy River" - Grateful Dead
"Hey, Ma" - Bon Iver
"My Projects" - Coo Coo Cal
"50 Ways to leave Your Lover" - Paul Simon
"Stupid Girl" - Garbage
"Strangers In the Night" - Frank Sinatra
"Closer to Free" - BoDeans
"I Will Survive" - Gloria Gaynor
"We're In This Love Together" - Al Jarreau
"December, 1963 (Oh, What a Night)" - The Four Seasons
"The Joker" - Steve Miller Band
"I Will Always Love You" - Whitney Houston