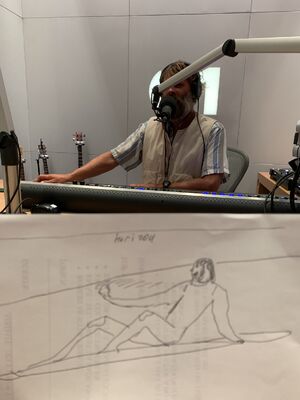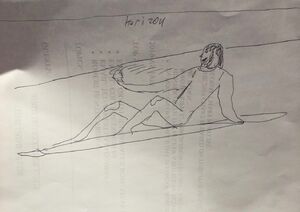 "Time Crisis, back once again. It's Sunday, three days after the holiday that some people call Thanksgiving. We don't call it that. We call it Gratefulsgiving, or Gratefulsgivings, or Gratefulgiving. Today, to celebrate this joyous event we're joined in the studio by a plethora of TC family. You'll find out who they are very soon. Plus, we pay tribute to Robert Hunter. This is Time Crisis."
Episode
Guests
Hannah Fidell - film director
Kyle Field - musician, of the band Little Wings
Topics
The episode begins with a discussion of Olive Garden, it's parent company and rising stock prices. Ezra muses on the name 'Gratefulsgiving', wanting to include more 'S' sounds, which sparks a conversation on surnames ending in 'S'. Birthdays on anniversaries of tragic historical events and the differences in autumn and winter are discussed before it is revealed that Ezra and Rashida dressed up as Jerry and Elaine from Seinfeld for Halloween (unofrtunately no picture available). Robert Hunter, lyricist for the Grateful Dead, is honored, and many of the band's songs are discussed, with a particular deep dive into "Scarlet Begonias".
Segments
Continuity
Music
Songs Played
"One of Us" - ABBA
"Dreaming" - Blondie
"Going, Going, Gone" - Bob Dylan
"By Now" - Little Wings
"Smoke Two Joints" - Sublime
"Season of the Witch" - Donovan
"Mountain Brews" - Mountain Brews
"Come Together" - The Beatles
"Estimted Prophet (Live at Barton Hall, Cornell University, Ithaca, NY 5/8/77)" - Grateful Dead
"St. Stephen" - Grateful Dead
"He's Gone (Live in Amsterdam)" - Grateful Dead
"Dark Star (Single Version)" - Grateful Dead
"Ripple" - Grateful Dead
"Scarlet Begonias" - Grateful Dead
"Jack Straw (Live In Paris)" - Grateful Dead
"West L.A. Fadeaway" - Grateful Dead
"Get On Top" - Red Hot Chili Peppers
"Eyes of the World" - Grateful Dead
Community content is available under
CC-BY-SA
unless otherwise noted.