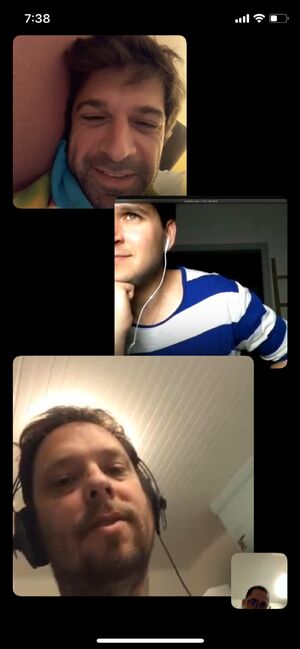 "Time Crisis, in a time of crisis. There's a lot going on in the world, you can barely keep up. But one thing's for sure - the TC Crew will come together, whatever it takes. In a time of coronavirus, and other strange distresing things, this is a very unusual Time Crisis."
Episode
Topics
The Crisis Crew connects via FaceTime to discuss life during a pandemic, including toilet paper shortages, the cancellation of concerts and music festivals, and Ezra's avoidance of shaking hands. They brainstorm some quarantine hobbies and create the challenge of watching through a chosen director's filmography. Remarking on the low sales of Corona, Ezra recalls his highschool days of drinking beer in "the woods" and describes the local legend of the Vietnam vet who lived there. The Crew spitballs some new ideas for their Sweet Chili Heat brand tequila before diving into the Top Five. Lady Gaga's track "Stupid Love" recalls her beef with Madonna, and while wrapping up the episode with some final thoughts, Ezra's phone dies.
Segments
Continuity
Fun Facts
This episode was recorded via FaceTime, with none of the hosts in the same room, due to the COVID-19 pandemic.
Music
Top Five
Because Lil Uzi Vert's new album Lil Uzi Vert vs. the World 2 took up all five spots on the Apple Music chart at the time of recording, the Top Five was instead taken from the BIllboard chart.
2020
"The Box" - Roddy Ricch
"Life Is Good (feat. Drake)" - Future
"Don't Start Now" - Dua Lipa
"Circles" - Post Malone
"Stupid Love" - Lady Gaga
Songs Played
"One of Us" - ABBA
"Morning Dew (Live In London)" - Grateful Dead
"Be True to Your School" - The Beach Boys
"Ink in My Veins" - Gabriel-Kane
"Do It Better" - Chet Haze
"Don Quixote" - Gordon Lightfoot
"I Can't Stand the Rain" - Ann Peebles
"Falling" - Julee Cruise
"Act Naturally" - The Beatles
"Rambo" - Bryson Tiller
"Bandages" - Hot Hot Heat
"There Is a Drone In Griffith Park" - L.A. Takedown
"Baby Pluto" - Lil Uzi Vert
"Stupid Love" - Lady Gaga
"Circles" - Post Malone
"Don't Start Now" - Dua Lipa
"Life Is Good (feat. Drake)" - Future
"The Box" - Roddy Ricch