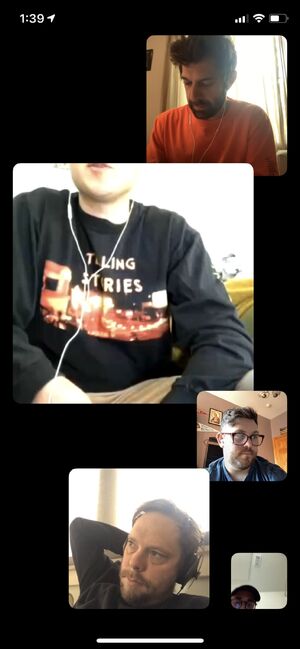 "Time Crisis, still in a time of crisis. The crew reunites via FaceTime, for a FaceTime Crisis, in a time of crisis. It's only been one week since the last TC, but we couldn't possibly let you go two weeks without checking in. This is a very unusual, very special, weekly edition of Time Crisis."
Episode
Topics
Jake recounts his daring journey to Home Depot despite the ever increasing pandemic restrictions in California, while Ezra gives an update on his marathon of Billy Wilder films and stresses the importance of routine during quarantine. The Crew discuss the celebrity cover of John Lennon's "Imagine" while Ezra expresses his disappointment at not being invited to participate. A dig into the Mail Bag finds an invitation to fan Benjamin's bar mitzvah and emails about strange men living in the woods. This sparks the idea to create a Jake-led TC commune, albeit one which retains internet access. After a discussion on the recent death of Kenny Rogers and his legacy of roasted chicken restaurants, the episode concludes with a rapid-fire AMA of Twitter questions.
Segments
Continutiy
Fun Facts
This episode was recorded via FaceTime, with none of the hosts in the same room, due to the COVID-19 pandemic. During this time, episodes also were aired weekly, rather than the usual fortnightly schedule.
Music
Songs Played
"One of Us" - ABBA
"The Man in Me" - Bob Dylan
"Renegades of Funk" - Rage Against the Machine
"Ooh La La" - Faces
"Scarlet Begonias" - Grateful Dead
"Imagine" - John Lennon
"The Dead Don't Count" - Mountain Brews
"Nature Boy" - Nat "King" Cole
"Ruby, Don't Take Your Love to Town" - Kenny Rogers & The First Edition
"Just Dropped In (To See What Condition My Condition Was In)" - Kenny Rogers & The First Edition