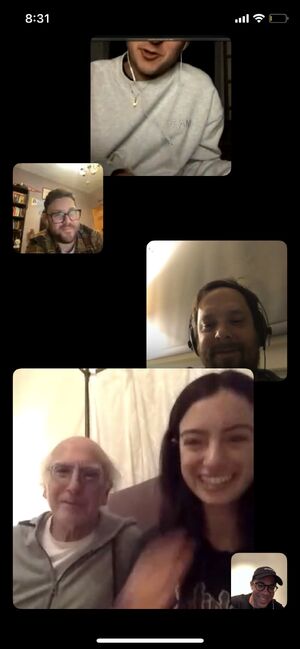 "Time Crisis, in a time of crisis. In a FaceTime of crisis. We reunite with the Crew and some very special guests, to talk about everything from Starbucking to COVID-19. But of course, even in these troubled times we take a moment to dive into the tasteful palette of the 1970s, and some of that old wisdom. This is a weekly Time Crisis."
Episode
Guests
Winter - software programmer and "Starbucker"
Cazzie David - actress
Larry David - comedian, writer, and actor
Tim Heidecker - actor, comedian, and musician
Topics
The Crew talk about adjusting to life under continuing quarantine conditions, including home haircuts and the dangers of grocery shopping versus delivery. Winter calls in to tell of his journey Starbucking during the shutdowns across the country. Jake discusses his new playlist of keeping up hope during rough situations. Cazzie David calls to share her perspective on the pandemic as a lifelong germaphobe and her father Larry David pops in to say hi. Tim Heidecker also calls to detail his daily life at home during self-isolation with his kids and how the changing socio-political landscape affected his music and comedy.
Segments
Continuity
Fun Facts
This episode was recorded via FaceTime, with none of the hosts in the same room, due to the COVID-19 pandemic.
Music
Songs Played
"One of Us" - ABBA
"Wild Life (2018 Remaster)" - Paul McCartney & Wings
"Let It Grow" - Mountain Brews
"Crazy Baldhead" - Bob Marley & The Wailers
"Cut Your Hair" - Pavement
"A Horse With No Name" - America
"Long May You Run" - The Stills-Young Band
"Garden Party" - Ricky Nelson
"Look at What the Light Did Now" - Little Wings
"To Live Is to Fly" - Townes Van Zandt
"Work from Home" - Tim Heidecker
Community content is available under
CC-BY-SA
unless otherwise noted.