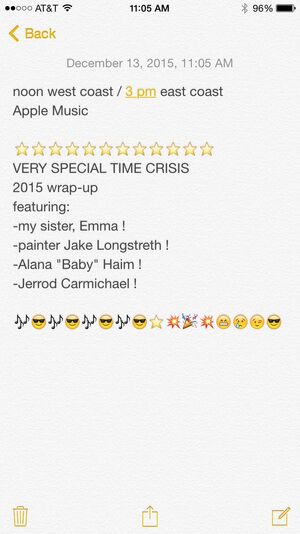 "Time Crisis episode twelve. 2015 draws to a close, as the wicked hand of time grasps another year away from us. Today we'll look back on that year. I'm joined by painter and poet Jake Longstreth; the youngest of the Haim girls, Alana "Baby" Haim; my sister Emma stops by to discuss some family matters; plus, my favorite comedian and poet, Jerrod Carmichael returns to the stage. This is Time Crisis."
Episode
Guests
Emma Koenig - writer
Alana Haim - musician, of the band HAIM
Jerrod Carmichael - actor and writer
Topics
Ezra asks his guests to name their top three songs of 2015, Jake introduces some LA-centric music by local artists, and the group dives in to the Song of the Year Grammy nominations sparking Jake to hate on Ed Sheeran.
Segments
Continuity
Quotes
"Bernie Sanders made a reggae album in the '80s." - Ezra
Music
Top Five
Grammy 'Song of the Year' nominations
"Alright" - Kendrick Lamar
"Blank Space" - Taylor Swift
"Girl Crush" - Little Big Town
"See You Again (feat. Charlie Puth)" - Wiz Khalifa
"Thinking Out Loud" - Ed Sheeran
Songs Played
"One of Us" - ABBA
"Some Mother's Son (Stereo)" - The Kinks
"Six White Horses" - Waylon Jennings
"Teach Me How to Dougie" - Cali Swag District
"FourFiveSeconds" - Rihanna and Kanye West and Paul McCartney
"Hotline Bling" - Drake
"Sorry" - Justin Bieber
"Friday" - Rebecca Black
"Venus Fly (feat. Janelle Monáe)" - Grimes
"All Day (feat. Theophilus London, Allan Kingdom & Paul McCartney)" - Kanye West
"Between Me and You" - Brandon Flowers
"Lean On (feat. MØ & DJ Snake)" - Major Lazer
"Screen Time" - Peter J. Brant
"Light Brang" - Little Wings
"L.A. Takedown" - L.A. Takedown
"Along the PCH on Oscar Night" - Nicholas Krgovitch
"Temecula Sunrise" - Dirty Projectors
"Downtown (feat. Melle Mel, Grandmaster Caz, Kool Moe Dee, Eric Nally)" - Macklemore & Ryan Lewis
"Alright" - Kendrick Lamar
"This Land Is Your Land" - Bernie Sanders
"Blank Space" - Taylor Swift
"Girl Crush" - Little Big Town
"See You Again (feat. Charlie Puth)" - Wiz Khalifa
"Thinking Out Loud" - Ed Sheeran
"The Tracks of My Tears" - Smokey Robinson & The Miracles
"Don't" - Ed Sheeran
"The Tears of a Clown" - Smokey Robinson & The Miracles
"For Sale (Interlude)" - Kendrick Lamar