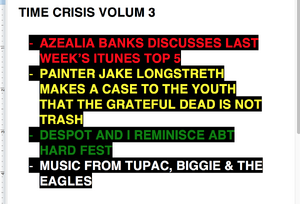 Ezra: "Time Crisis volume three. Los Angeles edition. Me and Despot out in LA. You wanna talk on the intro?"
Despot: "Sure."
Ezra: "We're out here in Hollywood, California, got all sorts of exciting people. Painter Jake Longstreth, singer/rapper Azealia Banks, maybe some other people, we'll see. For now, get ready for some more Time Crisis."
Episode
Guests
Topics
Ezra and Despot reminisce about their appearance at Hard Fest and discuss drugs with Jake, who tries to convince the youth that the Grateful Dead are not trash. Azealia joins for the Top Five and to talk about Drake and Meek Mill's beef.
Segments
Continuity
Ezra and Despot mourn the absence of Cousin Asher, who first appeared on the previous episode.
Jake's first appearance
First mention of the Grateful Dead
Quotes
"Pick three songs to really make a case for why the Grateful Dead are not trash, and maybe even good." - Ezra to Jake
Music
Top Five
"Drag Me Down" - One Direction
"Back to Back" - Drake
"Fight Song" - Rachel Platten
"Can't Feel My Face" - The Weeknd
"Cheerleader (Felix Jaehn Remix Radio Edit)" - Omi
Songs Played
"One of Us" - ABBA
"BedRock" - Young Money
"Gimmie that Nutt" - Eazy-E
"Going Back To Cali (Amended, 2014 Remastered)" - The Notorious B.I.G.
"One of These Nights" - Eagles
"Danny's Song" - Loggins & Messina
"Funky Worm" - Ohio Players
"Scarlet Begonias" - Grateful Dead
"Box of Rain" - Grateful Dead
"Jack Straw (Live in Paris)" - Grateful Dead
"'Til I Die" - The Beach Boys
"(Sloop) John B." - Laurel Aitken
"Night" - Benga & Coki
"Please, Please" - Stories
"Brother Louie" - Stories
"It Ain't Over 'Til It's Over" - Lenny Kravitz
"California Dreamin" - Bobby Womack
"Day-O (The Banana Boat Song)" - Harry Belafonte
"Cheerleader (Felix Jaehn Remix Radio Edit)" - Omi
"Can't Feel My Face" - The Weeknd
"Fight Song" - Rachel Platten
"Back to Back" - Drake
"Drag Me Down" - One Direction
"L'estat (Acc. to the Window's Maid)" - Ariel Pink's Haunted Graffiti
"Summer Madness" - Kool & The Gang
"Hail Mary" - Makaveli
"Woman to Woman" - Joe Cocker