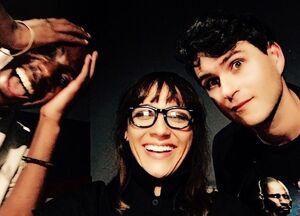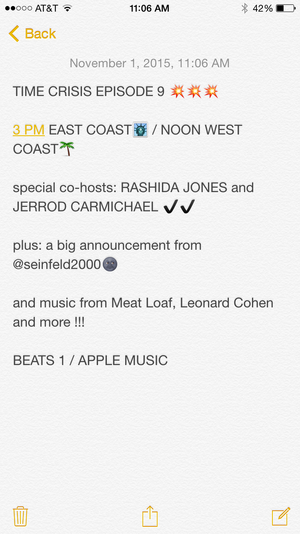 "Time Crisis episode nine. It's the day after Halloween, everyone's lying in bed counting their candy and listening to Apple Beats 1. Today I'm back in Los Angeles, joined by actress/writer Rashida Jones, and actor/writer Jerrod Carmichael. You might know them from films and programs, but today I'll be taking them way outside their comfort zone as we discuss my favorite medium - music. This is Time Crisis."
Episode
Guests
Rashida Jones - actress and writer
Jerrod Carmichael - actor and writer
Seinfeld2000 - comedian and twitter personality
Topics
In this autumnal-themed episode, Ezra discusses feelings of eeriness with his guests. The group speculates what "that" could be in Meat Loaf's "I'd Do Anything for Love (But I Won't Do That)", has a round of karaoke, and talks music made by nephews. Seinfeld2000 calls in for the first time with the controversial announcement of Seinfeld returning to television.
Segments
Continuity
Neither Jake, Despot, nor Cousin Asher appear in this episode, thus there is no co-host.
Music
Top Five
"Hello" - Adele
"Sorry" - Justin Bieber
"Hotline Bling" - Drake
"Ex's & Oh's" - Elle King
"What Do You Mean?" - Justin Bieber
Songs Played
"One of Us" - ABBA
"As Tears Go By" - Naturally 7
"Can't You See (feat. The Notorious B.I.G.)" - Total
"Ghost Town" - The Specials
"O Superman" - Laurie Anderson
"I'd Do Anything for Love (But I Won't Do That)" - Meat Loaf
"You Got Me" - The Roots & Erykah Badu
"Vitamin C (2004 Remaster)" - Can
"Secret" - Maroon 5
"Flip and Rewind (feat. Rashida Jones)" - Boss Selection
"The Rain" - Ouran "Juice" Jones
"Somebody's Watching Me (Single Version)" - Rockwell
"In Dark Trees" - Brian Eno
"James Bond - Original" - Roland Alphonso
"Come Clean (E New Y Radio)" - Jeru the Damaja
"What Do You Mean?" - Justin Bieber
"Ex's & Oh's" - Elle King
"Hotline Bling" - Drake
"Sorry" - Justin Bieber
"Hello" - Adele
"Great Pumpkin Waltz" - Vince Guaraldi
"Video Games" - Lana Del Rey
"Seinfeld" - Kitsch and Camp
"No Surprises" - Easy Star All-Stars